Environmental Issues Impacting a Local Urban River
Now that the students had some sense of the amount of fresh water available, we then talked about what happens when that very small percentage of water is polluted.
We had the good fortune to make contact with Kristi Rea, Program Manager of the Urban Environmental Initiative, at the U.S. Environmental Protection Agency. Kristi gave our students a presentation about the Woonasquatucket River. She explained how the land and water was contaminated, the types and extent of contamination as well as information about a public awareness campaign which targeted citizens who live near the river. For more information on the Woonasquatucket River please click on the following link: http://www.epa.gov/region01. As preparation for Kristi's presentation we reviewed the vocabulary and read a recent article from the Providence Journal, "The river's dirty; stay out of it".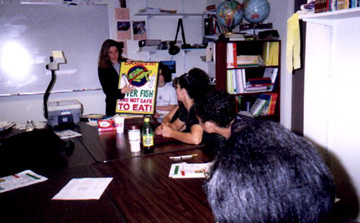 In addition to the presentation, Kristi was able to accompany us on a field trip which visited three different sites along the Woonasquatucket River. Each site offered the students a look at how the contamination had differently impacted these three areas.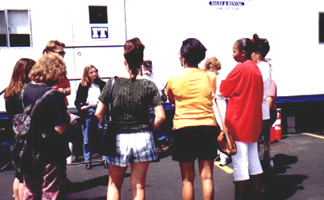 Follow-up Activities:
Thank you letter to Kristi Rea
Watershed Experiment - The objective of this experiment was to introduce students to the concept of non-point source pollution as well as to reinforce their understanding of a watershed. The combination of their own drawings, classroom discussion plus manipulatives delivered the message very clearly for our students.
Quiz B
Video - "It's Found Underground"
Homework
Choose One - however, feel free to do more if you want.
1. Name three examples of how dioxin has affected the lives of people who live near the river or who once used the river for recreation.
2. Write a letter to your representative, voicing your concern about the pollution of the river, and demand government help to clean it up.
3. Design a sign that shows that the river is dangerous.
4. Role Play. Present a little skit on this topic.
There is someone who wants to fish in the Woonasquatucket River. Your job is to convince that person not to fish there because the river is poisoned with dioxin.